I really hope that the article will help you understand the difference between HDD and SSD drives and make the right choice.
WHAT IS HDD DRIVES?
HDD stands for Hard Disk Drive, which, when translated into Russian, sounds like a hard disk drive. This technology is a practical standard for many years. In 1956, it was developed by IBM. Inside such a drive is several rotating disks with magnetic material deposited on their surface. Data is recorded and read using special heads moving in the radial direction over fast-rotating disks. The whole mechanics of such a drive determines the delay time, which is usually called access time. The technology has been improving for many years, but how does it affect the performance of your website on hosting?
BENEFITS:
Large storage capacity. Modern hard drives can store from 500 GB to 4 TB of data.
Low price. The cost of disks, depending on the volume, ranges from $ 50 to $ 200.
DISADVANTAGES:
The speed of access to data significantly lags behind the disks using SSD technology.
SUMMARY:
If your site does not require high performance and the web application does not use millions of small files located randomly on the disk, then you should pay attention to the tariff plans with HDDs. In other words, if your project is designed to demonstrate several pages to your users, then it is better to use this proven and quite affordable storage technology.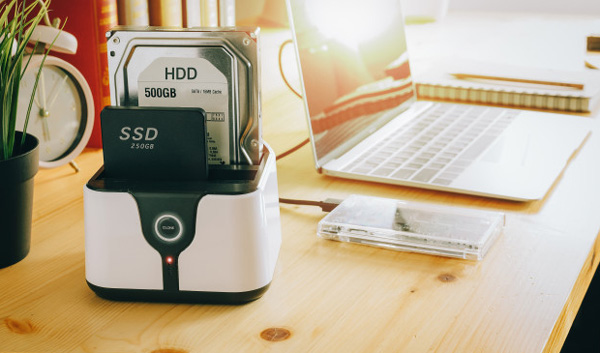 WHAT ARE SSD DRIVES?
SSD stands for Solid State Drive, which in Russian means solid state drive. Unlike HDD, special data storage chips are used here. And since there is no mechanical part, the data access is almost instantaneous. What are the benefits of such technology for web projects?
BENEFITS:
Very high performance. The access time to random data is hundreds of times less than on HDDs.
Very high data transfer rate.
DISADVANTAGES:
High price. Although a 120 GB drive will cost you about $ 100, but for 800 GB you will have to pay $ 3,500.
Small storage space. Such disks have a volume from 120 GB to 1 TB (the cost of such disks is fantastic).
SUMMARY:
If your web application is demanding on the system performance parameters, quick response to requests and using large amounts of randomly located data, then you should pay attention to the tariff plans with SSD drives. That is, the choice of such technology may be due to ensuring the operation of highly loaded web applications.
As usual, there is no unequivocal answer to the question in the title. You have to choose between a large amount of storage space for a couple of dozen rubles or high server performance, which hosts the project, but at a significantly higher price. The main thing is to weigh everything and evaluate the possibilities of your project.